Update: March 2023
The financial world is giving very mixed signals - banks failing, inflation still ripping, yet oil prices and down, along with startup valuations. But here at DQ we're making progress, with 10 companies now and counting. Here's our latest update.
Hi everyone - we missed you in November because, for a change, we gave our investor update by video conference. Now we're back with highlights and insights from Q1. We hope you enjoy!
In this update
DQ investor event
We held our first investor event on 6th March in Singapore, bringing together 30+ high-net-worth investors, family offices and VCs. They may look all smiles, but as one of our attendees said:
"That was the most impressive and intimidating roomful of people I've ever come across."
This was a chance for the group to share ideas on investment strategies as well as for us to raise the profile of DQventures. We've already had some excellent referrals to potential founders and investors, so thank you to everyone who came along. Thanks also to Mikael Krogh of Investigate VC, Oi-Yee Choo, CEO of ADDX, and our very own Oliver Palmer for an interesting and unusual panel discussion!
This may turn into the first of many, and we'd love to run events like this in other parts of the world. Let us know if you're interested in participating or know someone we could collaborate with.
Before we let everyone go, we asked them to share their favourite investing tips...
Investing trends and tips
It's no secret that we're living in uncertain economic times. With inflation still ripping and banks failing, the odds of recession appear to be rising. Thanks to years of underinvestment in the world's energy supply, this may not go away any time soon. Check out the Articles section below for more on this.
Tips from our event
In the meantime, here's what we learned from our guests on 6th March (please note, this is most definitely not investing advice. We're merely sharing what our event guests told us about their own investing activities):
Invest in a solution that touches people's lives on a daily basis.

Are the founders changing the paradigm or are they fitting into commonly accepted knowledge? Paradigm shift is sexy but really expensive to do, as you must prove the underlying science THEN persuade customers this is a viable solution. Changing people's minds is tough, especially if you are the only one with this frame of thought and the whole world is against you.

Early-stage opportunities in AI/Deep Tech.

Late-stage venture debt/private credit.

Commodities through hedging strategies.

Do you trust the founder? Trust = they can + they will + they care.

Do they have the ability, competence, skills and connections to do what they say they CAN do? (This can often be judged by their education and experience.)
Do they have the integrity to do what they promise? Do you have experience of this integrity? Do others? Will they do what it takes to fulfil promises? (It takes time to experience this.)
Do they CARE about the business, about you, and about customers relationships? Do they share the same values as you or are they all ego and self-focused? (This is about mutually-beneficial relationships.)

Stick to what you know - if you don't have an information advantage, don't fricking invest!

Sprott Physical Uranium Trust.

Investors are in the business of variance, therefore when everyone zigs, we zag. Don't invest in what's popular.

Don't write off founders you don't immediately like.

Solve for obsession and "coachability" (someone obsessed gets you to product + market + fit; someone delusional will run the business into the ground).

It's never as bad nor as good as you think, especially in VC. As long as unit economics make sense and burn is not egregious, the lack of "volatility" means that a positive outcome can be solved for and iterated.

Don't seek out winners… Exclude the losers (obvious red flags, wrong personality etc) … invest in the rest. You never know.

Reversion to the mean is the most powerful force in long-term investing.

Killer question: I see your deck, but explain it to me like I'm a 5-year-old.

Reference check the founders.

Infrastructure projects.

Never invest in a single-founder business. Invest in a multi-founder business with a single decision-maker.

Investments should always be macro > micro. Find an industry > segment > product > team > individual. If you can't develop your own thesis and drill into it, then don't invest.

In Southeast Asia plan to exit at USD300m (ish). If you are valued above $700m it's very hard to find a buyer. Suddenly you need an IPO in a market that does not consistently produce successful IPOs. You may waste years getting to IPO size, you'll continue to dilute along the way, and you have massive execution risk. A certain $300m exit is a win.

Lendela (if you can get in!).

DQventures of course! [OK, I admit, I added that one!]
DQ business update
The team here has been flat out of late and the business is functioning well in all departments. We receive enquiries weekly from potential DQ founders, our portal is close to launch (which will further streamline our founder programme), and we're seeing some terrific traction within the portfolio.
DQ is up to 10 ventures. Collectively these are valued, on paper, at over $15 million. Now we have our eyes on the next milestone: 50 companies. We have 20 months of runway remaining, so depending on investor appetite we'll either bootstrap our way forwards, or raise money and accelerate.
A few highlights
Articles and posts
In a couple of these cases "enjoyable" isn't the most apt description, but here are some of the pieces that stood out over recent weeks: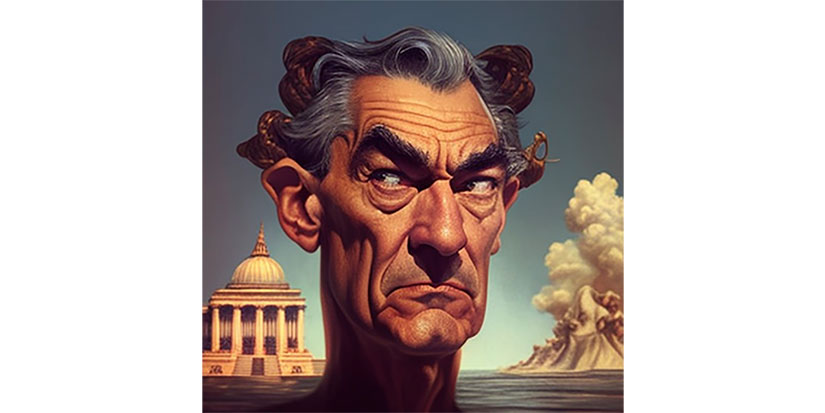 From LinkedIn
Those of you close to DQ will know that our main source of leads is LinkedIn. These are some of our most popular posts of late:
Thank you
Even if it's just for reading this far in our quarterly email, thank you! We really appreciate your support. If ever you want to reach out, or introduce us to someone who's eager to start their own company, or you'd like to explore investing in the DQ ecosystem, you can contact each of us on LinkedIn. Arjun is here (he's not as serious as he looks), Oliver (or at least a 25-year-old version of Oliver) is here , and I'm here (connect at your own risk - I share lengthy posts daily!). Have a great quarter and see you in June/July.
---
Image credits
– Events from DQ event taken by the wonderful Dr. Les Buckley.
– Secretive middle aged man by krakenimages.
– Lazy lizard image by Andy from Pixabay.